Pyramid Colours
Date: 5th July – 3th August 1986
Location: Mappin Art Gallery, Sheffield, UK
Duration of performance: Saturdays 10am – 8pm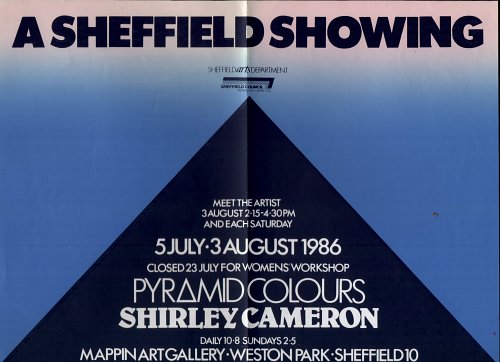 I conceived my idea and built the wooden pyramid after I had been invited to exhibit at Mappin Art Gallery by Mike Tooby, Curator, in his, A Sheffield Showing series, i.e. a series for local artists, augmenting the official touring artists' shows. This work turned out to be one of my absolute favourite Installation/ Performances of all time! (Indeed, for some years in the 80s I tried, intermittently, to tour the work to another venue but with no luck and the pyramid is still stored, dismantled, in my garage!)
White Day
Yellow Day
Red Day
Blue Day
Black Day
The work achieved many things, in my opinion.
It was popular, even exciting, for a range of people – for people of differing ages and for an art and a non-art public – (it being summer, there were sporting, etc. events in the park where the gallery is situated and hence, people who would not normally visit a gallery, did so).
All the many different elements – installation, sculpture, performance, photography, music, visitor participation, workshops – all worked well together.
The participation element was not an 'add-on' – the sheets that visitors completed, really were part of my exhibition – see examples.
There was a background of photographs of other 'pyramid work' I had done, so the work was in a context.
The static pyramid was elegantly animated by the simple action of my climbing inside and appearing at the apex with the pyramid top becoming my headwear – my action was to sprinkle pigment over the body of the form beneath me and then disappear leaving the pyramid top behind me.
Best of all, the structure had an inside as well as an outside – the inside being another, special exhibition space to be seen by my invitation only! It was a place in which I would share appropriately coloured food, i.e. strawberries on red day. People could talk to me about the work or fill in the sheets. It could be a comfortable space for me to retire to away from the gaze of my audience. It gave me a unique feeling of control over the presentation of my mysterious and beautiful work of art.