Geometree
Date: 1990
Event: Gateshead Garden Festival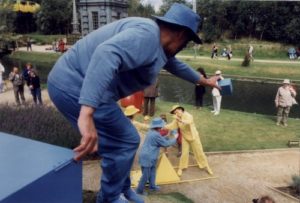 Geometree – a sculpture/ performance that invites participation from visitors to the garden festival and which uses the landscape of the grounds.
Core idea
Three geometric sculptures are each carried by 2 figures dressed, and with make up, to be entirely red, yellow or blue. The figures carry a red sphere, a yellow pyramid and a blue cube. Each of the sculptures can be opened and inside are other similar and smaller objects – a Russian doll effect! There are cards inside to be handed out, and participation invited. Visitors of all ages may draw on their card and then add them card to the tree – the geometree. There will be a prize for the best each day.
What is the performance?
Figures and sculptures in a landscape. Simple rituals from and between the performers, the sculptures and objects. Visitors can be an artist. The Geometree gains red, yellow and blue leaves – the card drawings.
Catalogue and Handouts